Skip Main Content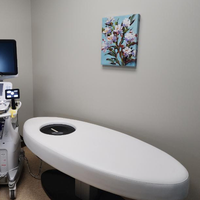 Imaging Center
Contact Us
Office Location
Office Location
Address:
Hours:
Get In Touch with Us:
Early Detection of Breast Cancer is Key to Survival What is a mammogram and why is it important?
1 in 8 women will develop breast cancer.
Every year, over 230,000 women are diagnosed with invasive breast cancer. Next to skin cancer, breast cancer is the most commonly diagnosed cancer among American women.
A mammogram is a low dose x-ray of the breast to detect abnormalities or changes in breast tissue. Routine screening mammograms can catch breast cancer early, often before any symptoms are present, significantly improving survival rates.
According to the American Cancer Society, when breast cancer is diagnosed early, the 5-year survival rate is 99%. When breast cancer is diagnosed after it has spread, the 5-year survival rate decreases to 28%


Mammography FAQ's Who is eligible for a mammogram?
All patients ages 40 and over are eligible and recommended to get a mammogram annually. What type of mammogram can be performed at Matthews Vu?
Matthews Vu offers screening mammography in the form of Digital Breast Tomosynthesis (DBT) What is the difference between screening and diagnostic mammograms?
Screening mammograms are routine exams performed on women without symptoms to detect early breast cancer.
Diagnostic mammograms are performed when a patient has active symptoms (palpable lump, skin thickening, nipple discharge, etc) or if an abnormality was detected on a previous mammogram. Diagnostic mammograms are frequently performed with diagnostic breast ultrasound.

What To Expect During A Mammogram
Patients will be asked to undress from the waist up and wear a gown. During the exam, the technologist will take x-rays of each breast. A high-quality study requires a level of breast compression that may momentarily be uncomfortable. Your appointment will take about 30 minutes.
Patient Prep For A Mammogram
Patients should not wear deodorant, talcum powder, lotion, or perfume under their arms or on their torso on the day of their appointment because these can interfere with the quality of their images.
Inform the staff if they have breast implants.
If they have had a mammogram elsewhere, have the images sent to us or bring them to their appointment. Our staff can assist them with getting prior imaging.
If your patient has some fear or is uncomfortable, engage your mammography tech to show them the room and talk to them about the test. This can help the patient to feel more comfortable. 10 CONFIDENTIAL Providers and Staff Need to Work Together to Ensure Compliance Front Desk:
If patient is over the age of 40, check the patient's chart and/or ask if they have had their mammogram in the last year. • Talk it up…mammograms save lives!! Medical Assistants: • Collect and flag any family history of breast cancer to the provider.
If patient is over the age of 40, talk to the patient about scheduling a mammogram. Providers:
If a patient is over the age of 40 and refuses to get mammogram, educate the patient on benefits of mammograms.
If patient is under 40 but has family history of breast cancer, discuss the possibility of starting screening mammograms early.

Diagnostic Mammography and Breast Ultrasound Approximately 10% of screening mammography is abnormal, leading to women being recalled for diagnostic mammography
Patients who are scheduled for a diagnostic mammogram will also be scheduled for a breast ultrasound the same day
The radiologist will review the diagnostic mammogram and determine if the patient needs a breast ultrasound
If needed, the breast ultrasound is done immediately following the diagnostic mammogram by offering diagnostic mammography services, patients who have had an abnormal screening mammogram will not need to be referred for follow up imaging
Virtual Diagnostics
For your technologists – mammo technologists and breast sonographers can discuss cases and ask questions "face to face" with the radiologist as if they were in the same room.
For your patients – the radiologist can speak directly with the patient about their diagnostic results and share findings on the images real-time, while offering patients the ability to ask questions.